HERE ARE SOME OF OUR DOGS FROM THE PAST
INTER/AUST CHAMP
JUST ASK FRANKIE(IMP SWD).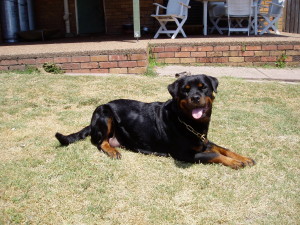 Frankie arrived in Australia in whelp back in 2007, She produced 13 pups from that litter . Many of  our home bred dogs have her attributes in their pedigree.
Arjuna Von Der Lauterbrucke(imp Gmy)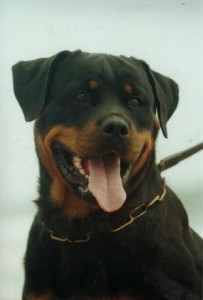 Arjuna arrived in Australia in 1998 and was part of the famous "A" von der Lauterbrucke  litter. Unes as she was known to us was an exceptional Female exhibiting
correct breed type and strength.
Aust Champ. Kormeister Bronco Multi V1 rated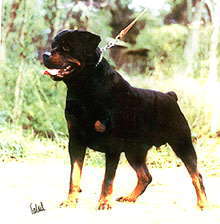 Bronco was my pride and joy . He was such a pleasure to own. Anything that was asked of him , he did . Best in show under many International Breed Specialists .
His movement was unsurpassed by any other Rottweiler in the ring at that time and his in ring antics were well known all over the country.
Hips 2:2 Elbows 0:0
Leistunghund Wrikee BH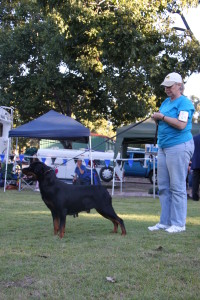 Wrikee still lives today with Keith and his family , protecting them with  the same gusto as she ever had. Still as crazy for a ball as ever at the age at nearly 12 years  age.
Wrikee was often describes as the hardest female Rottweiler that helpers had worked and this is attributed to her lineage of Danjo Vom Herrenboden SCH111 IPOP111
and Arjuna Von Der Lauterbrucke.
Aust Champ. Kormeister Myka BH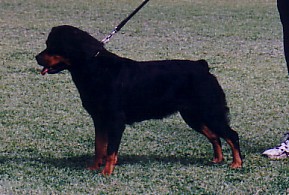 Multi V1 under many many international Judges a dog before her time. Narla was still being competitively being shown till the age 9 and still holding her own and being "V" rated
Hip score 1:1 Elbows 0:0